The following memories are courtesy
of the anonymous posters at Nutley Message Board on NJ HomeTown
Including: Smokandmrs, SueG, PT, AnotherSpringGardenMom, SueBelle, Hmmmm, UncleTonoose, Golly, badabing, jezebel, chopper22, nonna, NJRazd, MissMartha, NutRaider, LT, PapaSmurf, Bride, Ogre1164, Eloise, MomaMara, ME, Pops, Njtest, GaryMarino, TheBoyInNutley, PinkTaco, Waterboy, Groom, JPSDC, Nutley_Son
And others!
2005-2006
Smokandmrs:
Did this guy steal our stuff - or did we steal his stuff
- You know you're from Old Nutley if you ...
- - raced cars at Drewe's
- fished in the Mud Hole
- skated at the Mud Hole
- heard the bells of St. Mary's or Holy Family early in the morning
- saw a play at the Family Playhouse
- played caroms at Booth Park, Nichols Park, Kingsland Park
- remember where you were when the ITT tower tumbled
- drove through Albino Village...

I bet we can add a lot to it ... c'mon NJ HOMETOWNERS, Let's see what you've got

SueG
Drove to Monk's Castle got out of the car and ran up to the castle on a dare to touch it.
Ate at Rutt's Hut,
Drove to Branch Brook Park to see the White Lady Tree,
Took swimming lessons at ITT in the summer and skated on the reflection pool in the winter,
and had Good Humor Ice Cream (for free) after marching in the Memorial Day Parade!!
aka Kips Castle
Joyrides At Monk's Castle and Albino Village
By Anthony Buccino
PT
Misbehaved at a children's sports event.

Nutraider
How about
-took swimming lessons at the ITT pool
-ice skated under the ITT tower
-remember Candy Corner
Smokandmrs
- had your graduating class picture taken at the oval
- attended the Velodrome
- slipped under the fence into a football game during the national anthem while the cops were saluting the flag
- shot firecrackers behind the garage
- ate a burger at Town & Country at 3 a.m.
- burned leaves in the back yard
- swam across Nutley on high school graduation
AnotherSpringGardenMom
shopped at Gantner's Hardware store

PT
Bought something, anything at JNC

Angelbelle
Ate at the Nutley Diner when it was called Town & Country.

AnotherSpringGardenMom
Browsed the Shop-Rite Annex

SueG
I must know you, you went pool hoppin' too?
I forgot about sneaking under the fence at the Oval!!

PapaSmurf
- Gosh, I must really be old because many of these points listed are new to me.
- I did the fishing and ice skating at the Mud Hole, was at St. Mary's before the bells were installed even remember who donated them, remember when Holy Family was the smaller of the two congregations and watched the leaves burn many many times.
- I remember Dugan's delivering the way Schwans does now. Bamberger's and Kreske's had metal charge cards and the #13 bus went into downtown Newark and Gantner's was the place to go with your dad on Saturday morning.
- The Polish bakery on Franklin Ave and the Italian one near St Mary's on Center and Mr. Tozzi was a young man operating a excellent cleaners. I remember early spring and building the "new" Little League baseball park.
- Everyone brought their rakes and shovels and there were no heavy equipment pieces to move dirt.
- Now thatís "old" Nutley youngens.

SueG
Well, I don't consider myself that old but I also remember Dugan (we called the delivery man Dugan also) delivering our bread and the Italian Bakery on Centre Street that we used to go to after mass at St. Mary"s.
Speaking of St. Mary's, does anyone remember the Angel in the entrance to the school? We used it as a lost and found area. Oh, and how about the Bazaar's that they used to hold in the basement of the church?

AnotherSpringGardenMom
Wasn't the Polish Bakery Kucinski's? and the bake shop on Centre Nutley Bake Shop?

Sueg
I think the one on Centre Street was owned by a family named Stephanelli?

AnotherSpringGardenMom
I didn't remember their name, thanks. I think it was called the Nutley Bake Shop though. Not 100% sure, so maybe someone can enlighten me.

Hmmmm
Wasn't it called "The Nutley Bakery"? Lots of my friends used to work there in HS. They all got a bit chubby!

Golly
- I remember going to Hoffman's bakery after Mass but I don't know where it was located. Remember the crowning of the May Queen at St. Mary's standing there for what seemed like hours in absolute silence?
- There was a spot in the Oval fence that went around a big tree and I was slim enough back then to slip between two bars that were just a little further apart than the rest.
- You're from Nutley if you claim you were there when the policeman was pulled up through a hole in the street on the bridge over the brook on Brookfield Avenue. I really WAS there.
- You're from Nutley if you ever walked across the falls at Kingsland Park

SueG
You're from Nutley if you ever walked across the falls at Kingsland Park. [/quote]
- Oh yeah, I remember that but did you walk across the big one or the smaller (but scarier) one on the side? I was too afraid to walk across that one!! I also remember sliding on my butt down those white concrete slabs that we used as slides and tearing my pants!!

Waterboy
The Polish bakery was Kucinski's, my friend Jerry worked as a helper in the back. But what was the name of the soda fountain/ ice cream store that eventually became "Jim Dandy's".
Also, anybody remember the local rock band from the 60's. The Missing Links? Became a pretty successful bar band before they broke up, drummer was amazing, Tommy Hayes. Guitar player and singer lived on Passaic Avenue, just north of Center, real big guy with a great voice. Don't remember his or anyone else's name.

Badabing
Candy corner! Ahh memories. Use to go after school, and everyone would be in there raiding the candy barrels.
Every fight from NHS took place at GARDEN STATE< Which is now Carvel, on Franklin Ave.

Jezebel
omg...yes, I even got into a fight there! And every FMS fight happened after school on Church Hill! Candy Corner was great, all us Lincoln School trash hung out at Fred's and played video games!!
wait, let's not forget the Nutley Carnival by the P&R where we all went to hang out and hook up!

Smokandmrs:
Kucinski's bakery across from
Lardiere's Drug Store
Cozy Corner
Got your clothes cleaned at TOZZI'S
Peg & Ben's Restaurant

SueG
The soda fountain ice cream store was originally called Morris' but changed to Hansen's in the late 60's or early 70's. We used to hang out there on Friday and Saturday nights when we were in High School

AnotherSpringGardenMom
Didn't that flood when the river overflowed? I remember seeing the water coming out of it many a time.
Remember Bill Tone's Deli on Harrison?

Smokandmrs:
The big fat butcher - Bill or Tone?
and the candy counter in the back room - it was always dark in there

AnotherSpringGardenMom
Remember them both. I think Bill bought Tone out. I wonder what went on in the back room.

HMMMM
For any of you that grew up in the Kingsland Park area, Do you remember the stories of the man in the cape that would hide out in the "mountains" along the brook? It used to scare the crap out of me! Even to this day, when I go for my walk thru that park, I ALWAYS get the willies if I hear the slightest noise!
Call me a nervous Nellie!

Chopper22:
the Nutley bake shop was owned by the sparacino's

smokandmrs
Ice skating in the river at Booth Park
You know you're from Nutley if you spend your day reading three pages about how great everything was way back when were they simpler times
you got eaten alive by mosquitoes on summer nights when you played SPUTNIK under the street lights
(what was air conditioning? What was a FAN? )
NONNA
How about Christiansons and the cows at Cerami's Dairy. Boy they had the best pot cheese. A can that was mounded round on top with cellophane over it.
- I remember going to the church for 9th grade history class because the new annex part of NHS wasn't done being built. Had to trek over in the winter through the snow.
- Went to every Saturday afternoon football game for 4 years with friends. Had to support our Raiders.

Njrazd
You're from Nutley if you bought your posterboard from Peerless Stationery for your science projects.
- I bought my first Monkee's Album at what was then the grand opening of the ShopRite Annex.
- And I bet my Mom still has some of those mosaic hot plates we made at Summer Rec at Radcliffe School.
- St. Mary's Bazaar was always wonderful! I remember they would walk us through it before it officially opened and we would be in awe of how beautiful it was.
- And the Nutley Little Theater Barn on Erie Place...what a fabulous place.

MissMartha
- How about buying your clothes at "Boutique Alley" ?
- I swear, my Mother still has one of their plastic shopping bags in her house!!
- Hmmm, I remember the "man in the mountains" you talk about. I can remember walking thru there as a little kid around dinner time and having the CRAP scared out of me!

Njrazd
I also attended Lillian Danielís' School of Dance for many years. It was on Franklin & Church, across the driveway from what was Drewe's Hobby Shop. I think there's a realtor in there now.
- And how about Blimpie's?
- Miss Martha...I remember Boutique Alley! I had completely forgotten about that store.

NutRaider
I just remembered "Dectra Tee" also. (sp?) My mom let me get a groovy tee shirt made there!
- I practically grew up in Kingsland Park. I remember that cape man. Even though we never saw that person, I still remember who we thought it was. A guy that lived across the park... I really thought he was real!

Badabing
- Oh my goodness!
- I forgot about the FRANKLIN THEATER
- Hasnít been gone that long, but that was here for a long
time. All of us lived there, on Fridays and Saturday nights.. I wish it was still here for my kids.
- Think that the place for my first KISS AWW

LT
Eating lunch in maroon raiders

PapaSmurf
Hey does anyone remember the old brown stone St. Mary's Church -- now a parking lot.

Bride
I remember hearing about many of these places from members when you were reminiscing (spelling?) about the good ole days of Nutley. Sounds nice.

AnotherSpringGardenMom
Remember the Military Hall
- Kastner's Furniture Store
- Grand Union where Burger King is now
- A&P where CVS is
- Fabricville next to Peerless Stationary
- Plaza Bootery

Eloise
The original A&P was where the JNC Men's shop is now. I'm talking about 1952. Boys would line up their wagons or bikes out front to take your order home for you if you gave them 50 cents. Sure beat trying to manage grocery bags and baby carriage from there to Passaic Ave. and Vreeland Ave. Obviously we did not have a car. Don't remember when they moved to Harrison St., but we then walked to Franklin to shop at Food Fair which was where Ciccolini Bros. is now. By this time we had graduated to a grocery cart. Not the "in store" kind. Boy, did we hate winter weather. Grocery shopping was not fun!!

Miss Martha
Next time I complain about how rough I have it, you have my permission to SLAP ME!!
AnotherSpringGardenMom
Remember the 5 and 10 cent store on Franklin, somewhere near Nutley Camera or there abouts?

AngelBelle
DQ, Nutley Watch Shop and Lane Jewelers
- Remember the Arcade on Franklin Ave where TCBY is. Was in the 80's, only for a short time.
- Carl's candy store by SGS

Papasmurf
Okay had to do it -- The Nutley Sweet Shoppe. Spent most of my senior year there when I should have been studying. How I got through that year is a miracle or a gracious gift. I think the latter may have prevailed.
- There was also Sam's across the street from NHS. If memory serves me right some rather famous people of today would stop in there when they were kids.

AnotherSpringGardenMom
Ciccone's Shoes across from the HS
Giovine Music, my kids got their instruments for school there

Momamara
I've lived here since 1984 and worked at Hoffmann La Roche thru the 1970's and early '80's. My first shopping experiences here were at "Boutique Alley", JNC, Seibel's (where the Green Jade is now). Good memories.

Angelbaby
Do you remember these two luncheonettes?
The Raiders and the Maroon Raiders.
One was on the corner of Church and Franklin the other on the corner of Chestnut and Franklin.

Golly
Remember when "Up With People" came to Nutley?

ME
I remember shopping at the Terry Shop, The Jean Scene and Thom McCann.
- The Mudhole had the big wooden spinning carousel (not with horses just a wooden platform) too dangerous now.
- Ice skating on the Mudhole and having bond fires and sledding down the hill, someone always ended up in the steam.
- The open park program during the summer at Kingsland park with trips to Wild West City and Bertramís Island.
- Walking across the falls in Kingsland park as well as the smaller ones at the Mudhole.
- The bicentennial celebration, Nutley painted the fire hydrants red white and blue.
- The firemanís picnic on ITT property, for $5.00 you could buy a mug with free refills of beer, from the beer truck.
- I remember being sent to Shop Rite for a quart of milk and to the store by the corner of Franklin and Vreeland to buy my dad a pack of cigarettes.

Pops
Anybody remember O'Dowds dairy at the corner of Franklin and Joralemon St?
UncleTonoose
That was called the Milk Bar, itís been replaced by a bank.

NJTEST
ate lunch at Frank's "buy or fly"
- attend the prom at the High School Gym- and walked with your date through lines of parents and friends to the front door
- went to high school dances at Friday nights - where kids actually danced
- attended the prom at the Westmount Country Club
- went on the bus to Styertown
- went on the bus to Bloomfield Center and Passaic
- on Friday nights "walked the Ave"
- went to movies every Saturday on a date
- went to drive-in movies!
- ate at Rutt's Hut after a basketball game or wrestling match
- wore your boyfriend's class ring on a chain
- attended Youth Group meetings at local churches on Sunday night
- on Halloween went out alone with your friends without parents dragging after you
- could ride your bike in the summer all day all over Nutley and venture to Brookdale Park without your parents even knowing what you did all day
- got ice cream from "Tony" the ice cream man
- ran through the smoke from the Mosquito man truck
- enjoyed being a kid - no planned sports beginning at age 5 and more importantly, no micro-managing parents!

Eloise
How about Sylvia Manciniís Dress Shop? It was across the street from what is now Ciccolini's. Took my daughter there for prom dress which I think she hated. She looked beautiful, however.

GaryMarino
- Having a Toasted Cheese Stewart Sandwich at Jerry Angelos
- Buying supplies at White Oak Hardware
- know the rumor about Caren Lemma's home run hitting the Elks club
-Checking out the exotic Foreign cars at Jerry Roberts Toyota
-Eating Famous Amos Cookies right out of the Oven
- Remember Jones Florist on Passaic Ave
- had ice cream at the western scoop
- had whisky at the Onyx room
- had a boob shoved in your face at the oasis lounge
- and know which place had a sign proclaiming it to be "Nutleyís only daytime nightclub"

thetruth
Remember being dared to cross the train trestle over Memorial Park and having to do it to save face?

nhan:
What a trip!
- I remember many of these places. That is some feat considering I have been forgetting things lately and I'm only forty something. Lived here all my life, so have my parents.
- Remember buying 8-tracks at a happenin place near the Jean Scene. Can't remember the place's name and I don't think anyone's mentioned it yet.
- Also ice skated at ITT. That was great family fun.

Angelbaby
...remember going to the 4th of July Celebration in the oval....and walked back and forth in front of the stands and laid on blankets on the grass and looked up at the sky going "oo and ah" and then complained cause they weren't good enough.....

NJTEST
- got your hair cut at Mario's Barber Shop on Franklin Ave..
- got soda from Brookdale soda's in Bloomfield...
- ate an "Awful Awful" at Bond's...
- met with Santa at Levy Brothers....
- went Bowling in Styertowne....
- saw two movies at Franklin Theater every Saturday and bought root beer barrels and good n' plenty....
- shopped at Ginsburg's in Passaic....
- hung out a Jack's Sweet Shoppe....
- shopped at Gantner's hardware store....
- walked the "pipeline" to Radcliffe school....
- got all your school supplies from Peerless...
- went on the trolley to shop in Newark - Haine's, Bambergers' and Kleinís on the Square....
- Felt safe traveling to Newark!!!...

TheBoyInNutley
- Bob Tucker only "Rented" here while in Nutley, he has his primary Residence in Pennsylvania, I see him often when he visits the area. The pride of Hazelton, Pa, home of Jack Palance, a great athlete himself.
Bob Tucker finished his career with Minnesota Vikings but was a good player with NY Giants.
- Another "Actor" in town is Frankie Vincent, and Frankie Valli daughter Toni comes into town often, I see her as well.
GOLLY:
The Great Tape Escape and Your Mother's Attic.

pinktaco
Fought on church hill, hung out at Garden State or performed in Mr. Kocum's "Fame Show".

Duarte
How about blaming the Belleville kids for all the crime in Nutley ?

ersel_h
This post brings back fond memories of Nutley in he 50's & 60's.Here are a few I can recall:
- The Bit 'N Spur tavern around the corner from Ralph's
-Mrs. Gutherie's candy store
- Nutley Bake Shop cakes
- McGrory's deli on Washington Ave
- CYO dances at St Maryís on Friday nights
- Buying student bus tickets for the 13 Broad at the barn on Washington Ave
- Walking across the trestle on Passaic Ave
- Going to opening day at Rizzuto/Berra bowling alley and getting numerous pictures and autographs,wish I hung on to them
Would love to hear more from some of the OLD NUTLEYITES

UncleTonoose
- I grew up in Belleville - we used to buy the discount bus tickets - I think they were pink and cost 13 cents. Whether you were from Belleville or Nutley, the annual football game - and the inter-town rivalry was always a classic.
- Classic Thing to do in Belleville when you got your license (besides Monk's Castle/Albino Village) was to drive through Nutley and check out the girls (Gas was 17 cents - so you could ride a long time on two bucks worth of gas in Mom's Impala)

Groom
Uh oh. I sense chronology spilling forth, hidden-age divesting itself of anonymity, memories again becoming a thing of the past, trampled forward through the recesses of all that occurred 'tween then and now, slipping through the cracks of the decades of mundanity, only to resurface as fact, even in the face of obvious impossibility (mainly, a foreign pump attendant who wont check your oil or do your windshield, smiling before a sign reading "regular, $2.09)!!
- Um, I mean, you're giving away your age. I only remember as low as .23 a gallon, and I wasn't driving.

Ogre1164
OK here we go...
- Walking to Bernie's on the corner of Raymond and Bloomfield Ave's, alone, when I was 5, to buy cigarettes for my neighbor. I think she gave me a quarter and let keep the change.
- Getting your hair cut at Joe LaSalle's on High Street.
- The Nutley Police coming to our house to shoot pigeons out of the eaves. With .22's. Really.
- Getting your hair cut by Roy at Park Barbers. I can remember when Frank was the cool, young barber.
- Devils Hill in Nicol's Park. Did anyone really ride a sled down it?
- Mr. B the Crossing Guard at Ridge Rd and Coeyman Ave who knew every kid's name and always had a piece of Bazooka bubble gum for you.
- Asking to go to "court" when you had to use the rest room in Nutley schools.
- Tony's Pizzeria on Franklin Ave where Moscara's Realty is now. Tony knew everyone in my family by name.
- Drewe's, Jean Scene, Rocky's Pizzeria when it was across from the High School, Savino's Sporting Goods and the Nutley Bike Shop when it was next door to Bernie's.
- The Holy Family CYO dances they used to have on Friday nights in the basement of the old church, where I met my future wife. We had our first kiss in one of the carrels on the side of the new church where, unbeknownst to us, we would be married 9 years later.

njrazd
Many years ago, my father worked at Lamont's Paper Factory behind Nichols Park. It is now part of Hoffman LaRoche.
- He would always take us down to the little river with stale bread to feed the ducks.
- I also remember the Onyx Room, which was a cocktail lounge near the corner of Centre & Franklin.
smokandmrs
remember the way Gantner's floor creaked when you walked across it

sueg
Oh geez, I forgot about the creaking floor at Gantner's until you just mentioned it. Remember the smell?
- For the ladies, do you remember the bathroom in the Franklin Theatre? It was like a lounge... Do you remember the "prune faced woman" who was the proprietor? My Mom and Dad used to give us 60 cents total to go to the movies, 50 cents for the movie and 10 cents for candy. My brother and I would spend 5 cents on root beer barrels and the other 5 cents on Boston baked beans candy. Sometimes we would splurge and spend the whole 10 cents on "night and day candies".
- Of course, that was back in the 60's. That was also when you would get 2 movies for the price of one!!

Nutley_Son
I had forgotten about this one. Since when does the word "court" mean restroom? Only in Nutley.

Golly
It wasn't "court" in Catholic School - I know this because I switched in 4th grade from Catholic to Public and felt like a fool when I asked to go to the rest room (darn, can't remember what we called it - lavatory?) and all eyes looked at the "new" kid. I also stood up when answering a question and went to bless myself with the sign of the cross when we stood to say the "pledge of Allegiance"!
AngelBaby
....remember going to the 4th of July Celebration in the oval....and walked back and forth in front of the stands and laid on blankets on the grass and looked up at the sky going "oo and ah" and then complained cause they weren't good enough.....

Smokandmrs
Nobody goes there anymore, It's too crowded

JPSDC
- Nutley Electric
- The Dairy Queen boys and Library Lawners
- Johnnese's and Stanton Funeral Parlors
- Phil's Yantacaw Liquors
- Kucinski's Bakery and Lardier Pharmacy
- Calo's Barber Shop
- Zinicola's Square Pizza Pie (Friday Night)
Smokandmrs
bought something, anything,
at Petite Cafe the weekend of June 25, 2005
Late and anonymous:
"Flying A" gas stations at Bloomfield & Centre and High and Bloomfield (Nelson's)
Sinclair gas station at Harrison and Bloomfield
Davis' candy store (and Micci's (sp?) before that ... )
Ideal Farms milk delivery
Buying Italian bread for dinner at Cavallo's or Centre Deli (and eating the end on the way home...)
Neighborhood baseball games at the power lines
Box baseball on Webster Street
Touch football on Webster or Hudson Street
Sleigh riding at Blair's nursery
Tony's Pizza (bubble crust)
What a great walk down Memory Lane...here are some more from High St. from a Spring Garden Grown Lass:
Ralph's Pizzeria when it was owned by Ralph, Tony Intindola the barber next to Arturo the tailor, next to Nettie's Sweet Shop, where you could buy the latest copy of Archie comics & order an Egg creme... Jentis Liquors, where you could vote for Miss Rheingold (beer)... Max Kessler's Drug Store, (who delivered coke syrup for upset stomachs) .. Hendrick's Butcher Shop which had sawdust on the floor...the Flying A gas station owned by brothers Lou & Bill, then up the hill was Carl's combination butcher/deli/candy store where you could stop for some Bonomo Turkish Taffy on the way home from Spring Garden School, ...the Strawberry Festival, Mr. Van der Els, the principal, Mrs. Gonnella, the secretary, Mr. Schiffert the art teacher who always wore a bow tie and Miss Monahan's Social Dancing on Friday evenings...
Hotmama writes:
-Shopping at Shermans for kids' clothes
-Buying those awful girls maroon one piece gym suits for gym in grammar school at Drewes. Mrs. Drewe would write your name on the back.
-My Dad and all my brothers got their hair cut at Marios next to the Franklin School.
-Running past the Maroon and Gray luncheonette when I was little because the big high school kids looked so scary.
-the little tiny staircase in the library that went down to the children's room
-When Shop Rite didn't take up half of Franklin Ave
-Buying stuff at the local stores and putting it on your family's charge account.
-The guard at the big bank on the corner of Franklin and Chestnut would give us lollipops.
-Playing in the street and having to be home when the street lights went on.
Joe Cam Writes:
Great site!! - I love the "You know you're from old Nutley if..." section.
I remember visiting many of those places as a kid with my grand parents.
Which leads me to the point of this email. Back in the '70's & early '80's
my grand parents had a luncheonette on Passaic Ave, at the intersection of
Kingsland Ave, just up the street from the Famous Amos factory,
called The Loop Luncheonette. It was in an older style brownstone
building with shops on the ground floor, and apartments above.
I was wondering if you had any old pictures or articles about the place.
DDD writes:
Old Military Hall; sneakin in for a drink Senior year during free period or open lunches. Blimpies across the street.
TVGUY:
You called your winter hat a "Goobilini."
You spent your Thanksgiving early afternoons at the Kearny game.
CCD Student:
How about all of us who walked from Lincoln School to Holy Family Church for Religion classes every Wednesday, we didn't call them CCD yet, there had to be a hundred of us. We stopped along the way to get our candy that the Nuns took away from us if we didn't eat it because they had bags of chips for us to buy.
Us old schoolers also remember the day McDonalds opened on Washington Ave too, and the argument is, is the Old Canal Inn really in Nutley or Bloomfield. Us old schoolers know but remember it up there as "Nanny Goat Hill".
A Nutley Native:
I'm a native Nutley person, having grown up there drinking Brookdale soda. The photo and taste descriptions bring back a lot of memories. By chance I now live in Ohio (Mogadore, a suburb of Akron and about an hour and a half from Ashtabula) and the term "pop" really threw me when I moved here. Thanks for the neat web site of our hometown and the chance to reminisce about my youth. I have a sister that still lives on Oakridge Ave so I get to visit every couple of years. Thanks again
From Ruth:
Born and raised in Nutley, I really got lost in your website this evening. Your writings made my day. I spotted a picture of the Masonic Hall on Franklin Avenue, Nutley, Took dancing lessons upstairs in that building in about 1935, Mr. Cole was the dancing instructor. Every Friday evening, my mom and I would stop in for ice cream downstairs on that corner. Those were the Good Ol' Days in Nutley.
Born in 1925, you tell me how old I am! Graduated from NHS in 1943. Married my sailor in 1946 and moved to Long Island but still visited Nutley often. As a child, I ice skated on the pond at the foot of Kingsland Road. Used to play in the sand box at the Nutley Park . Even remember shopping with dad at Gantner's Hardware.
Years later, my dad opened his own hardware store in Montclair NJ and an uncle opened a Polar Club ice cream parlor nearby . Ice cream for breakfast.! Those were really the Good ol' days !!
Want to go back several years? My grandfather and his twin brother, Wilfred and Winfred Day, had a candy and ice cream shop on Franklin Avenue in about 1910. My grandparents lived on Church Street and we lived on Bloomfield Avenue at the foot of Raymond Avenue. A great spot to go sledding in the winter.
The foot ball games at the Park Oval? I played with the band and all I can remember was COLD but still a lot of fun. Nutley and Belleville really locked horns. After the game, we always found a way to warm up!
Enough "talk" for this evening. I can go to bed and dream about Nutley and the Good ol' days
Thanks for the memories. God bless my Nutleyite "friends". My heart will always be there .... Ruth
From Maine:
The Sinclair gas station.
Garden State Farms / Dairy Queen.
Cub Scouts at the Nutley Museum.
Getting cases of Brookdale at Colonial Liquors back door.
Horsing around in the woods, before the Senior Housing Project was built.
Civil Defense Communications Squad memories of the fireworks and the "500 year" floods...
People? Off. Joe Guarino. Mr. Bill Gilligan, and Bill Shergalis. MIZ. Ellen Young. Off. Harry Austin. Off. Hank Anzovino. BOTH Ken Molkenthins....
I could go on and on and on....
From Lou:
I have very few connections left to Nutley, even fewer to Down Neck, where I was born. So it's really nice to see someone doing your work with your passion. And besides, everyone KNOWS that Brookdale "Kola Soda" was better than Coke OR Pepsi....
Lou
California Transplant:
I grew up on Oak Street, right around the corner from the old ITT tower. Went to St Mary's elementary (with my cousins the Talarico's). Lived just walking distance from the mud hole.
I loved reading your website - it brought back such wonderful memories.
*Tripletmom*

I remember sleigh riding down the church St lawn through the gate and
onto the playground of Franklin Jr. High
I remember clothes shopping at Franklin Dept. Store at Chestnut and
Franklin Ave
Pizza at Ralph's and tuna sandwiches at The Sweet Shop
Rollar Skate Dances at Franklin Jr High
Buying Milk (next to the Diary Queen) in re fillable glass bottles
Buying nehru jackets and Levis at Harrick's Clothing Store for guys
Going to Nunzios Music Store and renting instruments
Parking on Franklin Ave for a penny or two in the meters
NOT being able to walk up Chestnut St to get home when it was icy and
figuring out an alternate route
Running next to the mosquito trucks (weird when u think back on that
one)
Catching fireflies in a jar
Deciding if you were a "hood" or a "collegiate" in HS
Can anyone relate to these things???
Joe Wasiuk
I REMEMBER:

The Grand Union before it was "Burger King".
The Bowling alley that burned down on Franklin Ave. in the 60's; it's
now a Doctors office!
Before being called "Le Terrace Club", the swim club was called "Kal's".
Giovine music on Centre St. and then on Franklin Ave.
The pizza store on the corner of Passaic Ave. and Hancox Ave. with a
white delivery truck!
All of the swingsets throughout the Hancox Ave. apartment complex near
Flora Louden park during the 60's.
Santa arriving on the firetruck at the corner of Hancox Ave. and Yale St.
The walkway behind Tozzi's cleaners to get to school at St.Mary's.
The bakery on Centre St. owned by the Sparacino family who lived on
Nutley Ave., and the barbershop right next door!
Playing basketball at the orphanage on the corner of Howe Ave. and
Washington Ave., across from Johnesee's funeral home.
Bradlee's before Kohl's.
ADP being built in 1968 on Route 3 East, working there, and then seeing
it torn down.
DIANE
I was looking for Brookdale Beverage stuff and your sight came up. My father was the plant manager for Brookdale for as long as I can remember. My brothers & sisters used to run around the plant while my father waited for his last driver(s) to come back to the plant. Brookdale was part of so many families back then. He was with them until shortly before they folded, he passed away. If you know of anyone with Brookdale stuff for sale please E mail me
Strauss Cars on Franklin Avenue
Shoebox's Corner Store on Essex St & Franklin Ave
Grand Union where burger Kings is
Jean Scene, Thom McMahon, Great Tap escape, Peerless, Boutique Alley, Bill Tones, Vitiello's bakery when it was down the street in a smaller area on Franklin ave.
The Lawn mower place on Franklin Ave next to the American Legion Post 70
Rocky's Pizzeria, Merle Normans across from the high school Diary queen The Oval when you could watch a game or high school graduation with out then putting a tarp up so you can see from Franklin Ave. Fire works in the Oval.
The statue place on Franklin Ave Near the boarder of Nutley & Belleville. Thanksgiving footballs games playing Belleville.
That diner on Center street, that use to be an old trollie car? I forgot the name of it.
ENID
Dear Friends , I need to know if there is any interest in a ball team ----- The Nutley Tigers ------ they were active around the 1930's , my late husband was a member in his youth and I have the uniform and a photograph of the team , complete with every name , the names would be of interest to descendants , I would give permission for the picture to be published in your local newspaper, my husband was raised in Nutley , ( Bloomfield Ave. ) served in WW11 in Europe, then moved to Clifton 1962, has a wife and two sons , he passed away 2003 ........thank you for advise
*Sleigh Riding down both hills at the mudhole
*Free fudgesicles at the oval on 4th of July morning
*All the races at the oval that same morning...if you won you got a white t-shirt with a firecraker on it that said Nutley Civic Association.
*Sitting on the blanket in the Oval watching the fireworks at night.
*The 12 noon siren on Saturday from the fire station on Chestnut
*Mrs Dejons piano lessons on North st
*The Easter Egg hunts at the mudhole
*The Memorial Day parades
*The 3 long bells ending recess at St Mary's "Stop" "Go to your line" "Go into school"
*Hebberlings corner drugstore, corner nutley and passaic
*Olands market on Passaic
*Blue Bird Barber Shop on Chestnut and Passaic
*Annual Bazaar at St Mary's
*Annual Carnival with rides at Holy Family
*The Bigleys (13 children)
*The Trestle on Nutley Ave
*The 3 trains in the morning and 3 in the evening that went to/from NY
*Roses Hardware across from Gantners Hardware
Now a popular Facebook Group
Nutley, N.J.
A great place to live
and raise a family.
___________
A book about the people who have made a memorable impact on Nutley, New Jersey, throughout its history.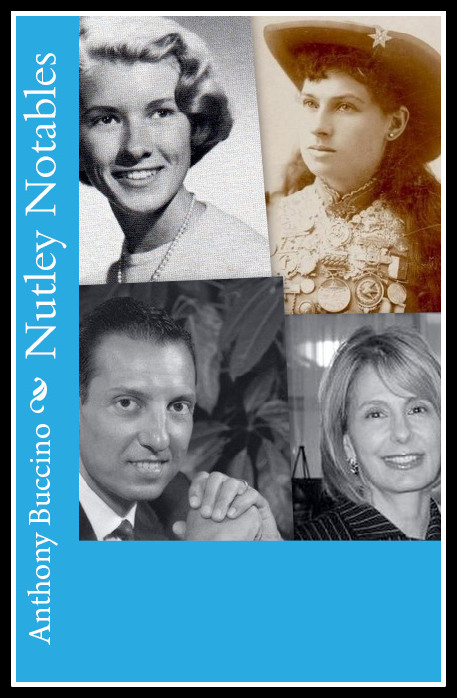 Nutley Notables Volume One
___________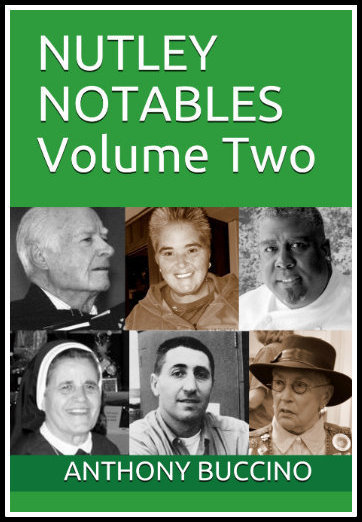 Nutley Notables Volume Two
___________
Nutley Snapshots
___________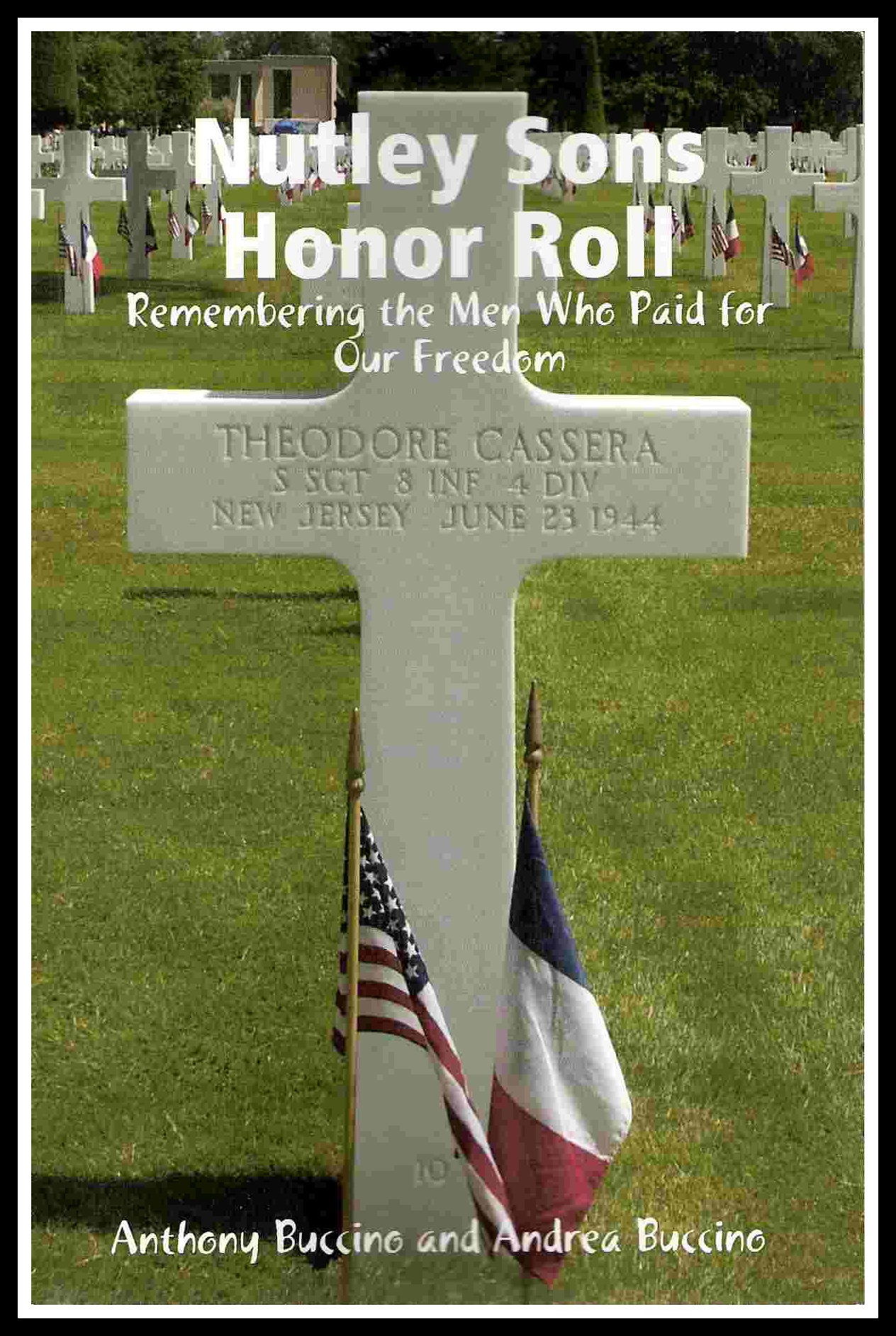 Nutley Sons Honor Roll
___________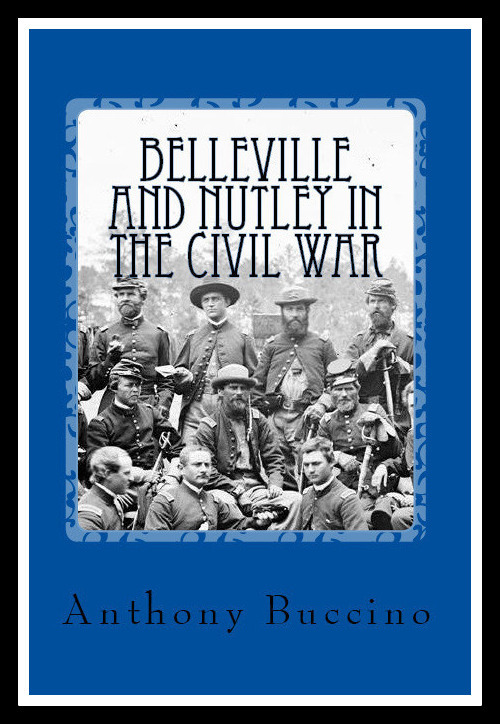 Nutley and Belleville
in the Civil War
___________
Web Site Created By
Anthony Buccino
___________
Site Sponsors

___________
Contact us
Old Nutley/Anthony Buccino
PO Box 110252
Nutley NJ 07110
Email your comments about this site
Entire contents Old Nutley.org
This web site is not affiliated with or sponsored by any local group or government.
Note: Links subject to change
___________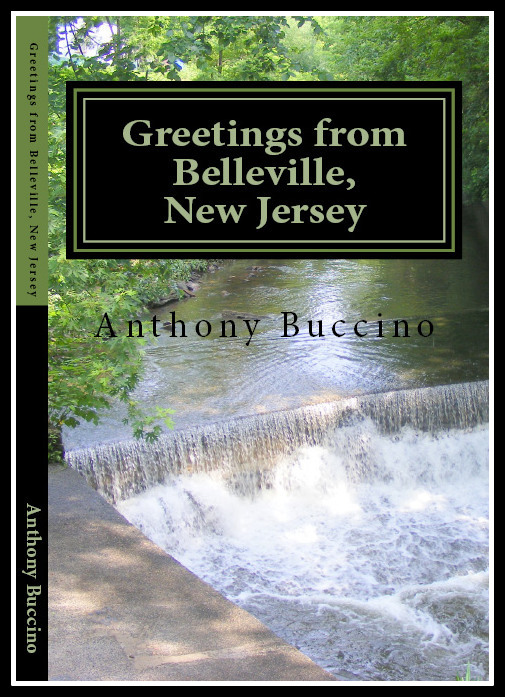 You don't have to be from New Jersey to enjoy this book, you just need an inclination to remember when chasing the mosquito man and his big blue DDT cloud was a great thrill for kids on their bikes or running in their Keds!
And who can forget the excitement on hearing the bells of the approaching ice cream truck to the neighborhood?
If you remember defrosting refrigerators or the simpler things of times past, you'll enjoy Buccino's essay collection.
___________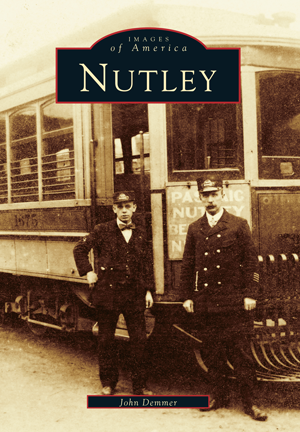 Images of America NUTLEY
___________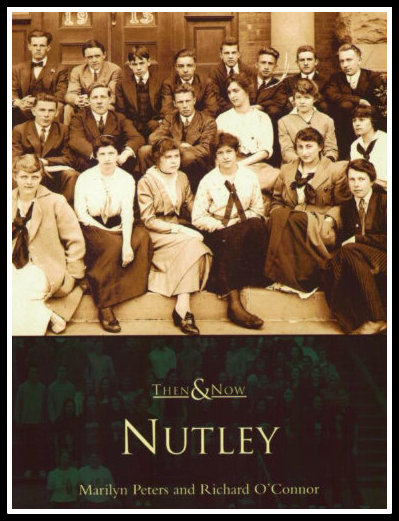 Then and Now NUTLEY
___________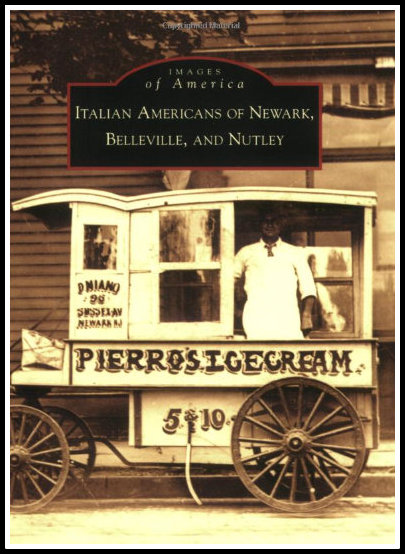 Italian Americans of Newark, Belleville, and Nutley (Images of America)
___________
You Know You're From Nutley, NJ
___________