Annie Oakley
Annie Oakley and her husband Frank Butler lived on Grant Avenue in Nutley from 1892 through the turn of the century. Annie Oakley was inducted into the Nutley Hall of Fame in its inaugural year 2003.
Oakley once wrote, after visiting 13 countries, that she loved America and Nutley best of all. She and her husband, Frank Butler, purchased a plot of land at 304 Grant Avenue and had a house built there. Even though they owned the house for about ten years, they were rarely in it due to their busy work schedules. The house was taken down in 1937, and two new brick ones were built on the site, according to Nutley: Images of America by John Demmer.
Oakley, Annie, 1860-1926, American theatrical performer, b. Darke co., Ohio.
Her original name was Phoebe Anne Oakley Mozee. From childhood on she was a "dead shot" with a rifle. She defeated in contest the noted marksman and vaudeville star Frank E. Butler, who subsequently married her and became her manager and assistant.
As a major attraction (1885-1902) of Buffalo Bill's Wild West Show she performed remarkable feats of marksmanship. In 1901 she was partially paralyzed in a railroad accident but continued to delight audiences with her brilliant shooting for 20 years.
Her life was the basis for Irving Berlin's popular musical Annie Get Your Gun (1946).
See biography by W. Havighurst (1954).
The Columbia Electronic Encyclopedia, 6th ed. Copyright © 2004, Columbia University Press.
Annie Oakley Mural Hung
In Nutley Post Office Building
(The Nutley Sun, April 11, 1941) -- The bare drabness of the Post Office Building interior was given some lilt and color this week with the hanging on the south wall of a painting by Paul Chapman, WPA artist, which seeks to memorialize the memory of Annie Oakley, far-famed woman rifle expert. Although she was not a native of Nutley, she spent a number of years during her later life in town, first coming here in 1892 with the Eaton Stone circus which maintained its winter quarters in Kingsland road on the property now owned by Johnn D. DeWitt.
The selection of Annie Oakley as the theme for the mural was made by a committee of local men including Edgar Sergeant, Isaac B. Hazelton, Irwin Smith and Abram Molarsky, artists, and Johnson Foy, former publisher of The Sun.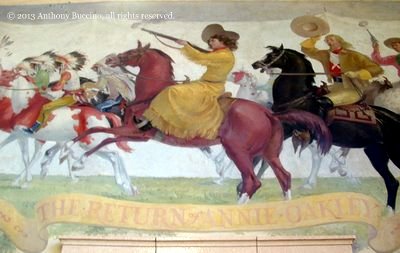 During the years that Annie Oakley, who in real life was Mrs. Frank Butler, spent in Nutley, Mrs. William Longfelder who resides in Highfield lane was one of her closest friends. Their friendship continued until the sharpshooter's death in 1926.
The Nutley Historical Society has an extensive collection of Annie Oakley artifacts, including photos and firearms, at the Nutley Museum. An "Annie Oakley expert" is one of the society's directors and attends local meetings discussion the township's famous sharpshooter.
Books for sale at the Nutley Historical Society
Legends of the West (Annie Oakley) - Courtney Ryley Cooper
Bulls-eye A Photo biography of Annie Oakley - Sue Macy
150th birthday of Annie Oakley
Celebrating Little Sure Shot's 150th birthday
Annie Oakley's still a perfect role model
American Experience - Annie Oakley (2005) by Marion Ross, Marilyn Spanier, Bob Ader, and Laura Linney
Shooting For The Moon: The Amazing Life and Times of Annie Oakley by Stephen Krensky and Bernie Fuchs
Bull's-Eye: A Photobiography Of Annie Oakley - by Sue Macy
Biography: Annie Oakley - Crackshot in Petticoats
The Life and Legacy of Annie Oakley (Oklahoma Western Biographies, Volume 7) By Glenda Riley
Annie Oakley: Vol 1 TV Series (1954)
Annie Oakley, Vol. 1: 50TH Anniversary Edition