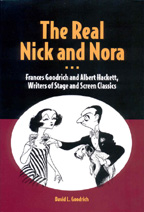 The next time you watch that Christmas season film "Frank Capra's It's A Wonderful Life" you should try to picture small town life in good old Nutley and Belleville, New Jersey, about one hundred years ago.
By that time, future screenwriter, author and Pulitzer prize Frances Goodrich was already under the spell of our little town. As her nephew David L. Goodrich wrote in "The Real Nick and Nora ..."
"She was born on December 21, 1890, in Belleville, New Jersey, then a pretty village on the Passaic River, where, her mother wrote, "sturgeon leapt and lawns ran down to shining waters." ... the family moved to nearby Nutley, an equally pleasant village within easy distance of New York ... In Nutley, there were green fields, tree-lined roads, big comfortable houses, and another stretch of the clear, unspoiled Passaic...."
Okay, so maybe good old Nutley has changed somewhat. But much of the small town spirit is still here, and the next time you watch Frank Capra's film classic "It's A Wonderful Life," watch how many of the small town references apply to good old Nutley.

You see, by the 1940s, the screenwriting team of Frances Goodrich and Albert Hackett had enough hit shows under their belt that Capra called for them to fix the shooting script for "It's A Wonderful Life."

I see not a bridge in Bedford Falls, but the bridge over the Passaic River to Lyndhurst. I donít see Pottersville, I see Franklin Avenue and the small town feel of Nutley at the turn of the last century.
The Goodrich filmography is infused with many of the good things about growing up in Nutley. You just have to look for them.
Next time you watch Father of the Bride, or Itís A Wonderful Life, watch for parallels that mimic life and times growing up in Nutley and Belleville nearly a hundred years go.
Respectfully submitted by
Anthony Buccino
It's a Wonderful - Review - Nutley Little Theater
"It's a Wonderful Life (60th Anniversary Edition)" DVD
Books
Favorite Scenes from the Classic Film It's A Wonderful Life - Jimmy Hawkins
It's a Wonderful Life: The Fiftieth Anniversary Scrapbook (Hardcover) by Jimmy Hawkins
The Essential It's a Wonderful Life, a Scene by Scene Guide to the Classic Film - Michael Willian
The It's A Wonderful Life Book - Jeanine Basinger
The Real Nick & Nora - Frances Goodrich and Albert Hackett, Writers of Stage and Screen Classics by David L. Goodrich
It's a Wonderful Life: A Memory Book by Stephen Cox
Zuzu Bailey's It's A Wonderful Life Cookbook: Recipes and Anecdotes Inspired by America's Favorite Movie by Karolyn Grimes
It's a Wonderful Life: From the 1946 Liberty Film, Distributed by Republic Pictures Corp. (St Martin's Original Screenplay Series) by Frances Goodrich, Albert Hackett, Frank Capra, Philip Van Doren Stern
Links
It's a Wonderful Life - Webring
Wikipedia It's a Wonderful Life
IAWL in 30 seconds with bunnies