Goodrich & Hackett are probably best remembered for their stage version of The Diary Of Anne Frank, for which they won a Pulitzer Prize. They also created the characters of the Thin Man film series. Their screenplay for Frank Capra's It's a Wonderful Life is replayed on TV sets every Christmas season.
Born Dec. 21, 1890, Belleville, NJ - January 29, 1984. Ms. Goodrich moved to Nutley when she was two years old. A screenwriter, she who worked on more than 40 films, from After The Thin Man (1936) to The Diary of Anne Frank, Father of the Bride (1950) and Father of the Bride II (1995)
Read the biography of Goodrich & Hackett:
The Real Nick & Nora - Frances Goodrich and Albert Hackett, Writers of Stage and Screen Classics by David L. Goodrich
Pulitzer Prize for Drama "The Diary of Anne Frank"
Nutley Hall of Fame induction - personal notes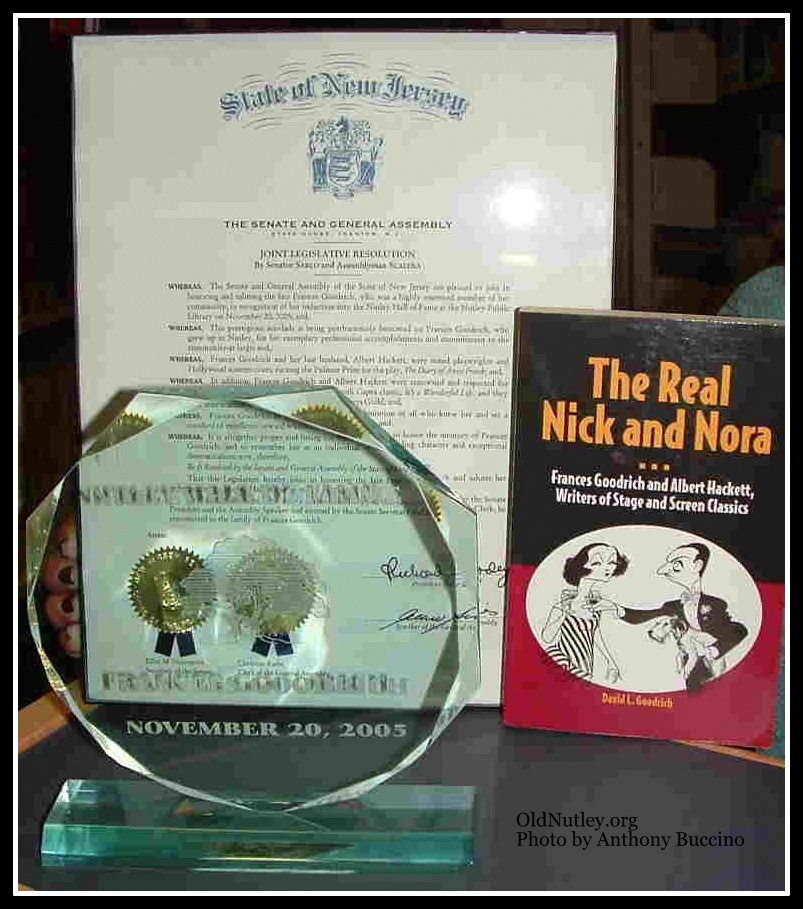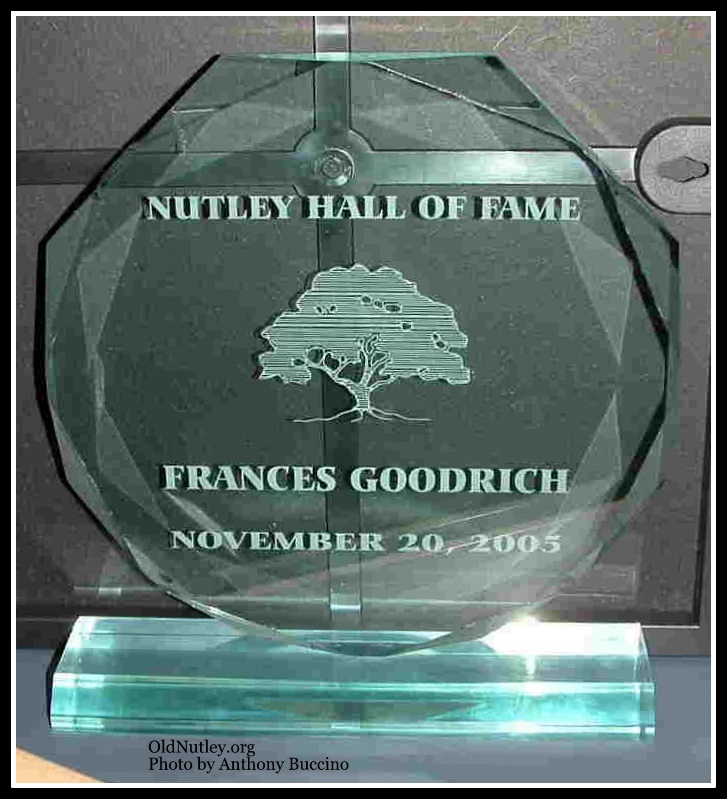 It's a Wonderful Life in good old Nutley
Albert Hackett
Feb. 16, 1900 NYC - March 16, 1995
Screenwriter; Married Frances Goodrich

Together they worked on It's a Wonderful Life, the Frank Capra film.

Manhattan-born Albert Hackett and his wife Frances Goodrich collaborated on the 1929 play Up Pops the Devil. The show was a success, and Hackett was invited to Hollywood to work as dialogue director of the film version. But Hackett refused to leave his wife behind in New York; nor did he want Goodrich to be regarded as merely a "writer's wife."
When Hackett finally did come to Hollywood, it was as his wife's writing partner, a collaboration that lasted professionally until the team's 1962 retirement-and personally until Goodrich's death in 1984.
The projects on which this exceptional duo worked include their adaptation of Eugene O'Neil's only comedy Ah! Wilderness (1935), Frank Capra's classic It's a Wonderful Life (1946), and Stanley Donen's Seven Brides for Seven Brothers (1954).
The Nutley Little Theatre, organized in October 1934, was proposed by members of the Parish Players of Grace Church. ... A comedy, "Up Pops The Devil," by Frances Goodrich and Albert Hackett, was the first offering on Nov. 23, 1934, in the high school auditorium.
It's a Wonderful Review - Nutley Little Theater
"It's a Wonderful Life (60th Anniversary Edition)" DVD
It's a Wonderful Life links
It's a Wonderful Life - Webring
Wikipedia It's a Wonderful Life
IAWL in 30 seconds with bunnies